Welcome to NAPTA
The National Association of Professional Teaching Assistants (NAPTA) is a membership organisation that works with schools and other education settings to realise the potential of support staff, whatever their role. It provides its members with a range of specialist services to help individuals develop as professionals and to deliver whole-school improvement.
Membership
Thousands of schools across the country have become members of NAPTA and enjoy a range of benefits, including resources and support to provide performance management and CPD for all support staff.

Learn about
membership
benefits

Learn about the
Workforce Development Programme (WDP)

Read members'
testimonials

Join
now
Free resources
As part of its commitment to developing support staff and supporting their managers, NAPTA also provides news, information and planning resources for support staff and their managers.

Get free
resources
Useful publications

ICT Explained
From its extensive work with schools, NAPTA has found that ICT is an area that many support staff find difficult. The 128-page handbook offers a simple, reassuring approach to ICT issues, specifically designed for a non-technical audience. For more information and to order, visit ICT Explained.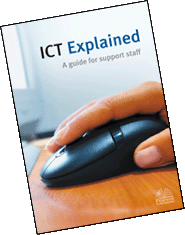 The Good Practice Guide
Suitable for TAs and their managers in any educational context, The Good Practice Guide enables your staff to discover best practice in the context of their own school. It helps by considering how best to:
improve professional development
access appropriate training initiatives/frameworks
use feedback and appraisal
offer guidance, clarity and consistency
maintain continuity of experiences for pupils
enhance the curriculum
organise staff mentoring
help teachers work more effectively with TAs/HLTAs
provide an ethos for effective working conditions.
The Good Practice Guide is provided on CD-ROM and comes with a full site licence. This means that all the material can be shared throughout your school and can be viewed onscreen or printed out on demand. For more information and to order, visit The Good Practice Guide.